Super Bundle CD demo
Create a new Surveying Series Super Bundle CD
Containing: "Sight" Survey 3; Collector Connector; Contour It; LegalEase; COGO File Converter; and Scan2CAD
System Requirements: Pentium or compatible processor running Windows 95, 98, ME, 2000, XP, Vista, or NT 4.0 or higher, 32Mb of RAM, a hard disk drive with 14 Mb free space, mouse, VGA or higher resolution graphics. We recommend a minimum resolution of 800 x 600, best when viewed at 1280 x 1024.
This procedure allows you to create a new Simplicity Surveying Series CD that may be used to install demos of: "Sight" Survey 3; Collector Connector; Contour It; LegalEase; COGO File Converter; and Scan2CAD. Additionally, the CD will contain PDF images of all brochures and manuals.
This self-extracting zip file is 92 mb in size and is recommended
only for those with high-speed broadband connections.
Left-click on the download link below. When the File Download window appears, save the file to your computer desktop, or you my choose to run the file from this location.
If you elected to save the file to your desktop, double-click on the file to run the self-extractor. If you elected to run the file from this location, the self-extractor will appear after the file is loaded into memory. In either case you will see this screen: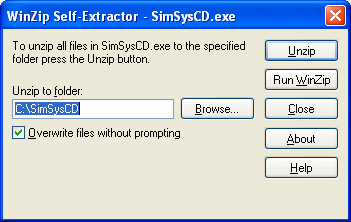 Note that the files will be (by default) extracted into a folder named SimSysCD on your C:\ drive. You may change this location if you wish by entering a new location into the Unzip to folder field. When you have set the location, left-click the Unzip button (or press [Alt][U].
Once the files have been unzipped, use Windows Explorer (My Computer) or other CD burning software to copy the contents on the SimSysCD folder to a CD. DO NOT simply copy the whole folder to a CD as a single entity. Open the folder and select all the files/folders in the SimSysCD folder. After the files have been copied, close and eject the CD. You may delete the entire SimSysCD folder after your CD has been created.
To install the CD files, simply reinsert your CD. The autorun feature on the CD should start the setup program automatically after a few moments. If it does not, open Windows Explorer and navigate to the \SightSrv\Disk1 folder on the CD, then double-click the Setup.Exe program.
When setup begins, we suggest you select to install all options and use the suggested default folders as your installation location. If you have Adobe Acrobat Reader already on your computer, you should bypass that part of the installation.
To Run "Sight" Survey: Left click the Windows Start button, click Programs, highlight Simplicity Systems, double-left-click the "Sight" Survey 3.0 icon (not the Sight Survey Setup icon). You should now be in the program, and the demo will only be able only to work with up to 25 points. It will not save files or print. Program manuals can be found in the Manuals folder, and brochures in the Brochures folder.
© 2008 by Carlson Software, Inc. Last modified November 18, 2008